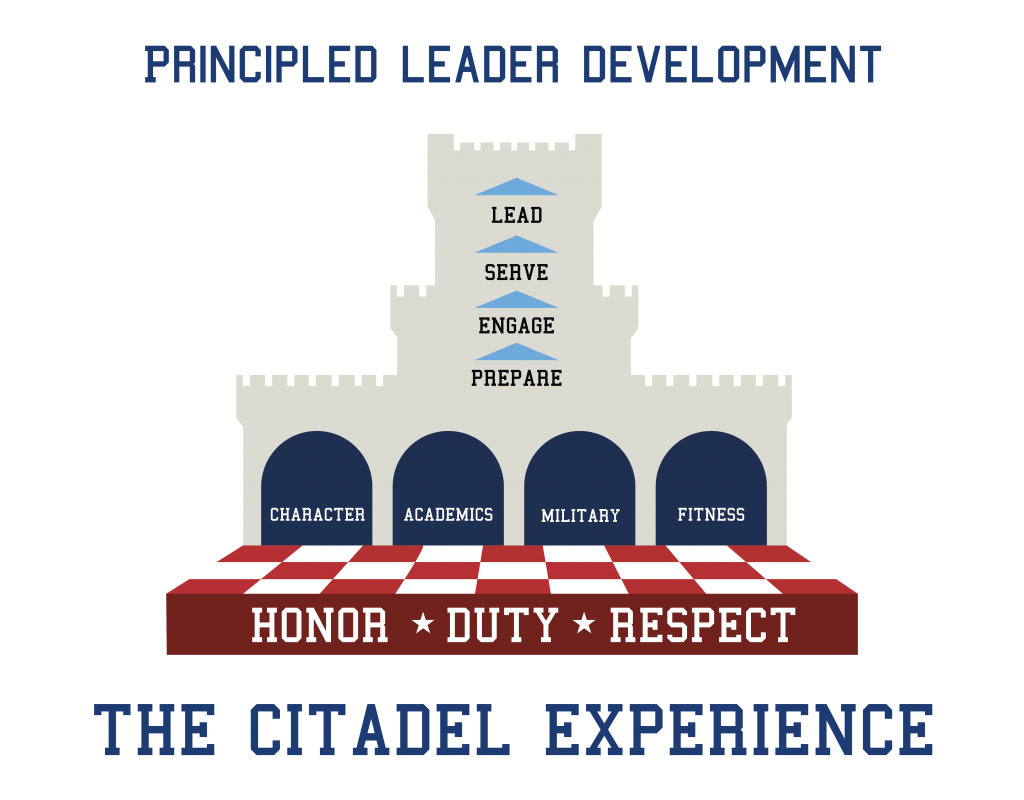 The Citadel recognizes that this lifelong process of education and development begins before matriculation and continues long after graduation. Leadership is inherently relational, and "good" leadership proves to be both effective and ethical. Such leadership requires actions and characteristics that influence others toward positive, beneficial change. Therefore, while leadership development may begin with one's own development, at its best, leadership is not about one's self or personal success but rather about developing and serving others in ways that help everyone to succeed together.

While leadership education and development draw from many different leadership approaches, styles, and techniques, none alone serves equally well in every possible context and situation. Therefore, to be fully effective and successful, emerging leaders must understand and master an array of concepts to discern the type of leadership that will be most effective in a given situation. Recognizing that The Citadel's mission calls for preparing principled leaders in all walks of life, students learn a wide range of leadership approaches and techniques that this program tests in proven, diverse organizational settings.

Applying two of the key concepts within The Citadel's mission, the Cadet Leader Development Program emphasizes the importance of development and environment. Development engages a process in which the individual becomes able to respond effectively in many different situations and integrate many diverse experiences. The environment consists of the context in which the development process occurs, including the challenges and support that enable such growth, both in the classroom and beyond.
The Characteristics of Principled Leadership
Lead with humility
Embrace a true, authentic self
Act and speak with courage
Develop and value people and resources
Empower and hold others accountable
Respect others by building trust and learning from mistakes
Serve others before self